How Often Should You Rotate Your Tires?

When you're behind the wheel of a new, used, or certified pre-owned model on St Louis and Jefferson County roads, you may be wondering, "How often should you rotate your tires?" Well, rotating your tires is a quick and easy way to ensure and maintain a smooth drive wherever you go. Learn more about how often you should rotate your tires with the experts at Suntrup Kia South.
Why Do I Need to Rotate My Tires?
Before knowing how many miles to rotate tires on average, it's also important to understand why you need to have your tires rotated. Having this done every so often keeps drivers on track of their Kia maintenance schedule, and extends the lifetime and function of your tires. If you notice any of the following issues, then it's time to have your tires rotated:
Less noise on the road
Relieves unnecessary stress on the drivetrain
Improved traction on slippery roads
Rotating Tires on FWD and RWD Vehicles
Drivers with front-wheel drive and rear-wheel drive should have their tires rotated in different ways. This is due to the fact that your engine sends more power to the back or front depending on which drivetrain you have. Tire rotations ensure that each tire is treated equally and they all remain in the same condition. Here are some more tips for rotating tires on FWD and RWD Kia models:
For RWD or FWD vehicles, you should at least be doing a tire rotation every 5,000 to 7,500 miles, although you will want to get a better estimate from your owner's manual.
In the case that you want to perform a tire rotation yourself and you have a front-wheel drive-enabled vehicle, it's important that you flip sides when moving your tires. What we mean is that your left rear tire should go to the front right position, and the right rear tire should go to the left front position. The front tires, however, should be moved to the rear on the same side they started.
If you have a car with RWD, then just flip the process. The front tires should flip sides when moving back, and the rear tires should stay on their respective sides when being moved forward.
Depending on your typical driving conditions, you may need to rotate your tires more frequently. Contact our specialists to learn more about tire rotation based on your driving habits.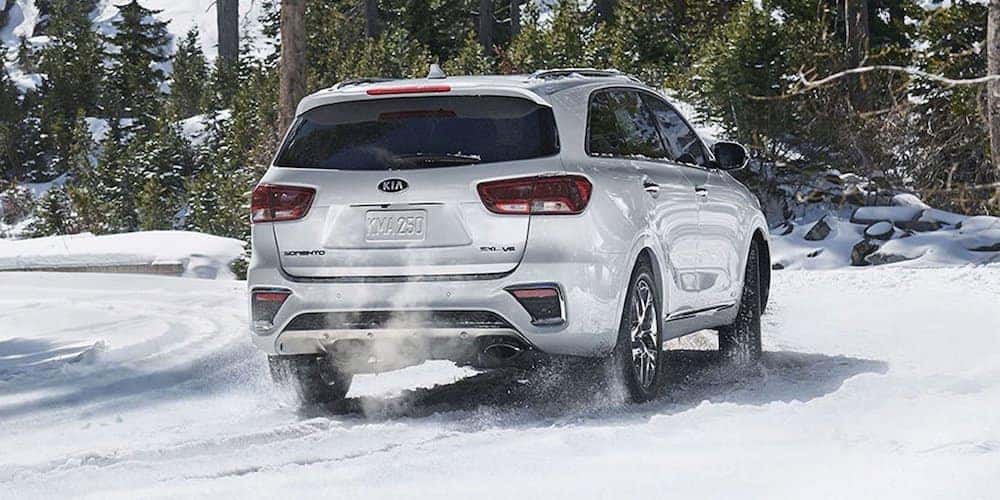 Rotating Tires on AWD Vehicles
Drivers of Nissan AWD vehicles are encouraged to have their Nissan tires rotated every 3,000 to 5,000 miles in order to keep their model running strong. The reason for this is because your vehicle's engine system sends power to every tire at the same time, putting extra pressure on the tires and their treads. As always, check with your owner's manual to see the correct interval for your next tire rotation.
Discover Quality Kia Service at Suntrup Kia South
Now that you know how to rotate tires, you can count on Suntrup Kia South's service team to have your back for all of your Kia maintenance needs. Browse our inventory of Kia service and parts specials to save on the services and OEM Kia parts you need to keep going. Interested in learning more about the Kia Optima maintenance schedule? We can help with that too.
Contact us today and schedule a service appointment near St Charles and Oakville!
---
Kia Service Coupons
Valid with any repair or service of $300 or more. One day only. Applies to same day service. Subject to availability.
Restrictions may apply. Must present coupon at time of service write-up. May not be combined with other coupons or discounts. May not be used on previous purchases. See dealer for details.
Suntrup Kia South
6263 S Lindbergh Blvd, St. Louis, MO
Service: 314-487-4004
Free 1-Day Rental Vehicle
FREE
Valid with any repair or service of $300 or more. One day only. Applies to same day service. Subject to availability.
Suntrup Kia South
6263 S Lindbergh Blvd, St. Louis, MO
Service: 314-487-4004
Tire Special
---
Explore Our Models
The Kia Sorento packs a punch with its adventure-ready powertrain and its supersized capabilities, but does it have the space you need for your busy life? The 2022 Kia Sorento dimensions offer generous capacity for your cargo and passenger needs – not to mention, plenty of high-tech features to make your driving experience better than…

The Kia Seltos has always been a sleek and stylish model, and the 2023 Kia Seltos available colors take your look to the next level. Whether you're interested in a Steel Gray LX with a black interior in St Charles or a Starbright Yellow SX with a plum upholstery in St Louis, there's no shortage of incredible…

The latest Kia Sportage SUV has improved on every aspect of the previous model, including fuel economy. The 2023 Kia Sportage gas mileage ratings allow you to get up to an EPA-estimated 32 mpg on the St Louis highways, but that's not all this vehicle can do. Take a look at the efficient features of…