Kia vs. Honda: What's Best for You?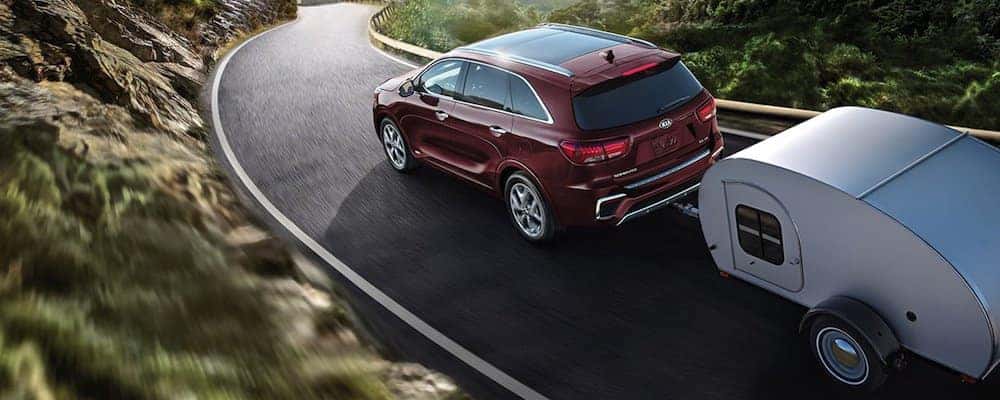 If you're in the market for an affordable car with reliable performance, then you've probably narrowed your list down to Kia vs. Honda. Is Kia or Honda better? These two brands are well-known for quality and innovation, but which lineup offers the best deal for the modern driver near Oakville? Today we will compare popular models from each brand to see which is worthy of the vacant spot in your driveway. We will explore Kia vs. Honda reliability, touch on the leading Kia warranty, and discern which vehicle is right for you. See how Kia compared to Honda stacks up with Suntrup Kia South!
Brand Overview: Kia vs. Honda
When you consider Kia vs. Honda, reliability is certainly a factor. When you invest in a new car, you want that vehicle to remain with you for the long haul. The new Kia lineup is stocked with vehicles built to last. With rugged engineering backed by the Kia warranty, Mehlville shoppers can secure the keys to a Kia upgrade with confidence. Discover highlights of the Kia vs. Honda comparison:
Kia Selection: The latest Kia lineup is diverse, to say the least. Perfect for any St. Louis driver, Kia offers 20 different sedans, SUVs, minivans, and electric vehicles (EVs).
Honda Selection: The selection of Honda models can't quite keep up. Honda delivers 17 sedans, hatchbacks, minivans, hybrids, and EVs.
Warranty: The Kia vs. Honda warranty showdown is no match at all. The Kia warranty provides 10-years/100,000 miles of coverage, while the Honda plan only offers 5-years/60,000 miles of protection.
Technology: The Kia UVO system offers advanced smartphone integration, hands-free Bluetooth connection, and infotainment options. The HondaLink® system provides similar features.
Safety: Honda equips its models with the capable Honda Sensing suite, but Kia delivers incredibly robust active and passive safety features for peace of mind on every road. Kia offers cornering brake control and electronic brake-force distribution, lower anchors and tethers for kids, brake assist system and hill start assist control, electronic stability control and traction control system, tire pressure monitoring system, front and rear crumple zones, rollover mitigation and vehicle stability management system.
Is Kia or Honda better? Overall, Kia has a slight edge over this competing brand. However, to truly compare the mettle of Kia vs. Honda, let's take a look at their respective vehicle types.
Compact Cars: Kia Forte vs. Honda Civic
In the compact car market, the Honda Civic has been dominant for decades – but it might be time for the Civic to make room for the next generation. The Kia Forte vs. Honda Civic matchup delivers surprising results for Civic loyalists. The Kia Forte has a stronger basic warranty plan, including 2 years and 24,000 miles of extra coverage. The Forte even includes free roadside assistance for 5 years and 60,000 miles, while the Honda doesn't offer this service at all. If you're worried about Kia vs. Honda reliability, it's clear that the Forte's long-lasting warranty coverage will give you better peace of mind.
Midsize Sedans: Kia Optima vs. Honda Accord
Whether you're a new parent or a solo commuter, the midsize sedan category offers the perfect blend of performance and design. And yet again with Kia compared to Honda, Kia has the edge. Comparing the Kia Optima vs. Honda Accord, you quickly realize that this is not really a fair comparison at all. The Kia Optima has a standard automatic transmission, while the base Accord features a manual. The Optima also has standard rear-folding split seats for versatility, while the Accord sedan does not. Finally, the Optima has speed-sensitive variable-assist power steering for greater control and handling, another feature not featured on the Honda Accord.
Family SUVs: Kia Sorento vs. Honda Pilot
The Kia Sorento vs. Honda Pilot matchup delivers another win for the Kia lineup. Between its safe performance and ample horsepower, the Kia Sorento is the better buy for families on the go around Fenton than the Honda Pilot. The latest Sorento is a Top Safety Pick+ from the IIHS, thanks to its high-tech safety features. The Sorento also has a 290-hp engine with a standard 2,000-pound towing capacity. That's 10 extra horsepower and 500 more pounds of towing prowess over the Honda Pilot! And despite having standard smartphone integration and other perks, the Sorento is less expensive than the Pilot. It's a no-brainer!
Stylish SUVs: Kia Soul vs. Honda Fit
If you want to leave a lasting impression on the Arnold streets, the Kia Soul vs. Honda Fit comparison may seem like a natural place to start. The exterior colors and interior features of the Kia Soul provide a unique and sophisticated driving experience not often seen on such an affordable ride. The performance of the Soul is just as impressive too. The 2.0L 4-cylinder engine churns out a maximum of 147-hp for your daily drives. The Honda Fit, on the other hand, maxes out at a paltry 130-hp from its 1.5L 4-cylinder engine. For greater performance, comfort, and style, opt for the Kia Soul!
Family Minivans: Kia Sedona vs. Honda Odyssey
If your family is beginning to grow, comparing the Kia Sedona vs. Honda Odyssey is a great idea. The minivan is a classic favorite, but that doesn't mean you have to settle for stale design. The Kia Sedona offers innovative storage solutions, comfortable amenities, advanced infotainment, and more! Drivers looking to select the Odyssey will have to pay a $3,000 surcharge when compared to the Kia Sedona. When it comes to Kia vs. Honda minivans, there's no comparison. Upgrade with value and quality with a Kia Sedona.
Test Drive a New Kia Vehicle at Suntrup KIA South
Between the Kia vs. Honda lineup, it's clear that Kia models are the top choice. You can even see how the Kia Warranty helps drivers better protect their vehicle. But, the best way to experience the Kia lineup is to get behind the wheel. Contact us with any questions or to schedule an individualized test drive with Suntrup Kia South in St. Louis!
More on Kia Models
Has the time come for you to get behind the wheel of a stylish and powerful cruiser to elevate your commute from Oakville to Mehlville? If so, the new Kia Stinger for sale at Suntrup Kia South is the perfect option. This bold and agile sedan delivers first-class performance and amenities for a reasonable Kia Stinger…

The 2022 Kia Carnival is a welcomed addition to the latest Kia model lineup. This elegant MPV offers a sleek look, advanced amenities, and tons of utility. Both inside and out, the new Kia Carnival is built to impress on the Oakville streets. Better yet, the 2022 Kia Carnival price starts at just $32,100…

The Kia Sportage SUV has enjoyed a long reputation for quality and reliability in Oakville, which includes sky-high Kia safety ratings. So, how does the 2022 Kia Sportage safety rating compare? While the official 2022 IIHS and NHTSA safety ratings have yet to be released, the newest Sportage shares the same top-notch technology and protective…